My First Ozora Experience
Ozora, Psychedelic festival (and village) is located about a 2 hour drive south of Budapest in a region called
Tolna, Hungary. Ozora is on every year in July, and there are 30 000 tickets available.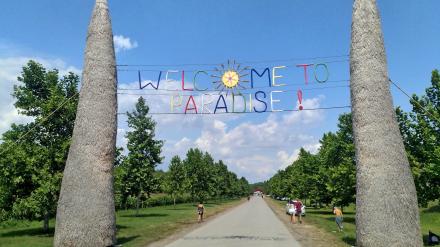 I arrived at Ozora on Sunday 28th of July (Day 0). The gates opened on Friday 26th of July, and already thousands of people had arrived then, obviously to get the best camping spots. I hoped to arrive before dark as I had to find a good shady camping spot and set up our tent. I found a great spot near some tree's up a hill about 200 meters from the Pampui stage. This was an amazing spot and I was surprised it was still available, as I got a really amazing view of part of the enormous campsite. Some really great views at night time seeing all the LED light decorations on thousands of tents. On a clear night I looked up into the sky and I could see thousands of stars above me. I could literally see the Milky Way Galaxies. Incredible!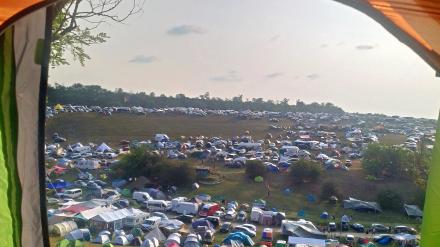 I had a brief walk around the festival, the main stage was not open yet, however Pampui was pumping. Just walking towards the dancefloor gave me goose bumps as it really sounded amazing. From that night I was already sucked in to the festival feeling - relaxed, happy and excited. I remember having a moment thinking to myself in shock: "Wow, I can't believe I'm really here!"
After having a good sleep I woke up to some sunshine, feeling fantastic. I enjoyed chatting with my tent neighbours as they were kind enough to offer me shade, coffee and cake. After a good cold shower I made my way into the festival main area to get some breakfast.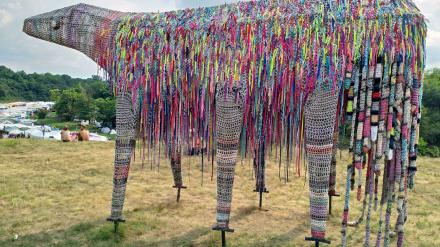 The opening ceremony was unique and fun to watch the talented jugglers on stilts, dancers and other various acrobatic acts. The acts dance for about 30 minutes and at the end 4 men on horses gallop around the main stage, which is the story about how the town of Ozora was founded. After the horses, they light the bonfire, and the opening DJ starts their set, and thousands of people run to the dancefloor. Really exciting to watch so many people come together to celebrate life joy and freedom.
Every other day was pretty much a repeat, wake up, eat, rave and repeat, however everyday was unique in it's own way. Everyday I met new interesting, like minded, friendly people. Everyday I heard new brilliant music, fast and slow. Everyday I discovered a new place or part of the festival, and everyday I enjoyed ourselves more than the previous day. The music and people make the festival, and I'm always impressed to see thousands of people relaxed and having a good time. No drunk people bumping in to me, nobody throwing rubbish on the floor, everybody dancing in sync, nobody causing any trouble.
The Pampui stage was excellent, pure quality music all the time. Most of the music was either Progressive or Techno, apart from Day 0 when they played PsyTrance. I absolutely loved waking up and falling asleep to deep, driving and hypnotic basslines everyday. The Friday night was really hard Techno and it was the loudest that night, it was quite hard to fall asleep that night, but I was prepared with some herbal sleeping tablets so I got there eventually. There was 1 night when they closed Pampui and had a cinema screen and they were playing cartoons for all the kids lol. That was the best night to get an early night. Pretty cool anyway, the kids need entertainment too!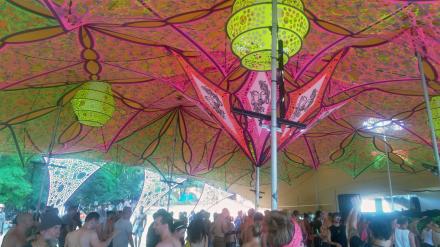 The main stage was always good, but sometimes it got too fast for me. I like the PsyTrance and Progressive styles, and maybe a bit of Forest, but the Dark Psy is too fast for me, so usually when it got too fast I had to leave and go to another stage. The best sets for me (out of the ones I attended) were Alpha Portal, Electric Universe and Astral Projection. Unfortunately the rain came down so hard during Astral Projections set, so I had to listen to it from some shelter nearby. It didn't stop thousands of other people from continuing to dance.
The Dome was really mind blowing. After looking up at the trippy ceiling and feeling the pulsating vibrations rattle through my chest, I felt a sense of euphoria, and yet again amazed. During the day it's like a chill zone. They play chilled music, a wide variety including Reggae, and people like to lie down and sleep on the sandy dancefloor. Later in the afternoon they start playing some deep Techno, and it progresses throughout the night into melodic Techno and some nights Dark Techno. Again, the music was pure quality all the time, no matter what style it was, very hypnotic. It just sucks you in and you don't want to leave. I thoroughly enjoyed Gaudi's set, he had his own live thing going on, and was indeed a sensational entertainer.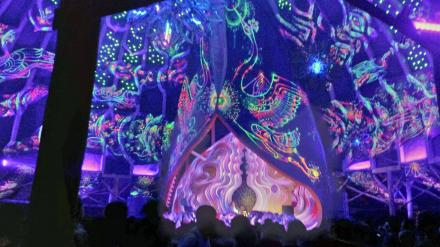 I didn't spend much time in Dragons Nest, and it was not open all the time, but the one night I was walking back to my tent and thought I would check it out. They had a live band playing and all I can say is WOW. I don't usually watch live band as the music doesn't appeal to me, but this was different. This was a Psychedelic live band and it was fantastic. I was utterly impressed with the energy they created and how they connected with the crowd. I don't know who they were but I would love to see them again. It was like Trance feelings from Rock Music (Psychedelic Rock). Pure class.
As for the Ambient stage, I didn't spend much time there either and I was a bit disappointed when I was there as I was expecting to hear some Psy Ambient type of music, but not sure what they were playing there. It's a really nice walk along the lake anyway and somewhere to go chill out.
Apart from the dance area's, there is good food, great shop stalls and plenty of showers and toilets. The were 2 heavy tropical storms. It was quite nice because it cooled down the air a lot, but it can get quite muddy and very slippery. I'm really surprised my tent held out in both storms. It's good to camp on a hill so the water runs down.
The weekend days get really full so I was ready to be leave on the Saturday afternoon. I can't recommend this place enough to any party goer, and I will most definitely be back again. Probably in 2020.